Software


Download QQ Player
Download QQ Player English Edition, Now you can download free the English version of the 2012 new Chinese QQ Player v3.7.892.400 with translation files. Download and install the QQPlayer and enjoy running all kinds of video & audio files of various extensions and convert, merge, Compress, snapshots all videos and audio files. The installation of the QQPlayer is easy and you can find it at the QQ Player installation page.
Keep your QQ Player updated by visiting the English site of the QQ Player 2012 as we always add new improvements, We hope that our QQ Player will obtain your satisfaction.
QQ Player Translation last updated in 14/08/2012 at 21:24PM
What's new in QQ Player 3.7.892:
1-
Increase: subtitles settings, you can specify whether to use the marquee's styles.
2-
Fixed: some machines cannot play HD files problem.
3-
Fixed: some machine Crash with DVD playback problem.
4-
Fixed: a machine menu text does not display issues.
5-
Optimization: hardware acceleration transcoding for Intel Ivy Bridge, can save up to 80% transcoding time.
Version 3.7.892 • Windows • 29 MB
Downloads: 595968
License: Freeware
Developer Home:
Player.QQ
Update: 05/11/2013
VLC media player
VLC is a free and open source cross-platform multimedia player and framework that plays most multimedia files as well as DVD, Audio CD, VCD, and various streaming protocols. Simple, fast and powerful media player.

Plays everything: Files, Discs, Webcams, Devices and Streams.
Plays most codecs with no codec packs needed:
MPEG-2, DivX, H.264, MKV, WebM, WMV, MP3...
Runs on all platforms: Windows, Linux, Mac OS X, Unix...
Completely Free, 0 spyware, 0 ads and no user tracking.
Can do media conversion and streaming.
Version 2.1.000 • Windows • 22 MB
License: Freeware
Get VLC for Windows
KMPlayer Version 3.7
Meet our latest, more powerful version now.
KMP is a versatile multi media player which can cover a various different types of contained formats.

Without any separate Codec, you are able to play any media files because KMP has its' own internal Codec. Supported Codec are separated by internal & external. For the sound Codec, KMPlayer supports AC3, DTS, MPEG1, 2, AAC, WMA 7, 8, OGG & etc. and it additionally supports matrix function/normalizer function when internal sound Codec is being used. Internal Codec gets processed inside of KMPlayer so it's faster & safer. Also KMPlayer supports all the Codec from ffdshow and it additionally supports MPEG1/2. If you're a user who finds it inconvenient to install Codec, who has a low CPU computer and/or a user who strives for an excellent multi-media playback player, you'll be able to modify your environment to a convenient multi-media format by using KMP.

KMP 3D

KMPlayer supports 3D format (side-by-side, top and bottom) videos with a low CPU Memory share and provides an optimized, stable playback through GPU support. With a one click of a button, you'll be able to experience the amazing 3D home cinema world and you conveniently can enjoy 3D Contents without downloading with 3D Movie Plus Apps being provided by KMP Plus.
Through KMPlayer, experience vibrant and sharp, high-resolution 3D movies at home.
Version 3.7.000 • Windows • 29 MB
License: Freeware
Developer Home: Player.KMP
Update: 05/11/2013

HD
ShaderEngine

TM

image enhancement engine, reducing screen noise while rendering sharp picture quality

LiveColor

TM

color enhancement algorithms, presenting vivid images

SmartAmplify

TM

Intelligent sound field balancing technology, giving your ears a treat
Low consumption
FastMotion

TM

significantly reduces CPU and memory footprint. Optimizated for modern multi-core CPU and GPU

PowerTravel

TM

power-saving mode, reducing energy consumption and increasing the battery time for notebook

EyeCare

TM

takes care your eyes for long time watching, ensuring a healthy viewing experience
Intelligent
Anti-Silly

TM

smart, fuzzy-logical configuration, hundreds of branch logics automatically select the best mode based on the hardware configuration.

CloudMatching

TM

Intelligent Subtitle Display technology, no longer need to google matching subtitles for foreign language films
Delicate beauty
After a number of enthusiastic users giving professional advices and design assistance, SPlayer interface focuses at simple, stylish, functional integrity without affecting the general use.
Version
3.7

Official Release

• Windows • 7.2 MB
License: Freeware
Developer Home: Player.S
Update: 05/11/2013


Internet Download Manager v6.18. Added Windows 8 compatibility. Fixed compatibility problems with different browsers including Internet Explorer 10, all Mozilla Firefox versions up to Mozilla Firefox Aurora, Google Chrome. Improved FLV grabber to save videos from web players on web pages, Google Video, MySpace TV, and other popular sites.


Any Video Converter
Freeware: Any Video Converter
Free Video Converter with millions of happy users!
• Convert all videos & YouTube to MP4, MP3, etc. for various media players
• Create HTML5 videos with embedding code ready to use for websites
• Clip, crop, rotate or merge to edit videos as you like
• Burn videos into DVD movie playable on TV and DVD player
• Boost video conversion speed up to 6X faster with CUDA acceleration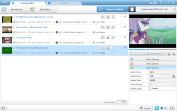 Click to Enlarge
All-in-One Free Video Converter


There is open source software to perform almost every task for video conversion. But if you are one of these windows user s who are looking for an All-in-One video converting tool with easy-to-use graphical interface, Any Video Converter Freeware provides just that, allowing you to effortlessly convert video files for FREE!

Free Video to Video Converter